Awards
Whether new methods for the processing of natural casings or unique textile skins with life-like properties, innovative ideas are an essential part of our guideline. We at DOHR are therefore constantly working to be able to offer new, improved products.
Our major innovations with viva is the revolutionary new product in hog casings. We are pleased that this performance was rewarded accordingly through the award of the FH Award 2015 in the category sausage casings.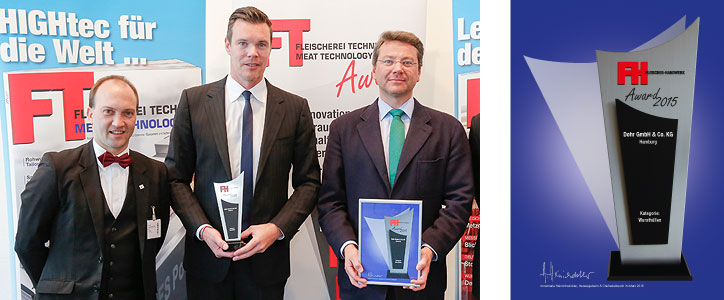 For the third time, the prestigious industry awards MEAT TECHNOLOGY AWARD and FLEISCHER-HANDWERK AWARD awarded by the magazines MEAT TECHNOLOGY and FLEISCHER-HANDWERK at Anuga FoodTec in Cologne on March 25, 2015. In eight categories pioneering developments were announced in meat processing.
Dohr chose the category "sausage casings" as its own. The decisive factor was the product innovation for hog casings "Viva". This product combines the advantages of natural casings with the efficiency of production efficiency of artificial casings. This is, however, regarding purely natural casings that are processed using a patended procedure and are characterized in thier ease of handling and production efficiency, which in that regard makes them comparable to artificial casings. Their properties ensure an optimum appearance, uniform caliber and accurate lengths, but simultaneously offer the required natural casings "bite". Since the cooking loss in boiled and cooked sausage is about 4% below that of conventional natural casings, the customers benefit from additional savings.